Did you know that you could get the look of granite counter tops without paying high prices? 
This project is definitely a must for anyone that needs to redo a kitchen or bathroom on a budget.
Our home actually came with fairly nice counter tops. Although they are laminate, they have sort-of a granite look to them. However, they just look so FAKE!!
When I received an e-mail from
Giani
asking me if I would like to review their
Granite paint kit
, I jumped on the offer. I looked at their website and thought 'This stuff is amazing!' When the box arrived in the mail, I couldn't wait to rip it open. I read through all of the instructions, watched the
VERY HELPFUL

video
that came with it. Then I stuffed everything back inside the box, tucked it into the corner of the kitchen... and that's were it sat for almost two months. 
Why?!! Because I realized that I was going to be painting over our counter top!! That's actually quit SCARY!! 
Luckily Giani was kind enough to give me a couple months to finish the review. Eventually I worked up the nerve. I decided to start with our kids/guest bathroom since it needs the most updating. I was still quite nervous when I started and did have a few freak-out moments during the whole process, but I finally finished it and I couldn't be happier with the results.
Here are the before and after shots.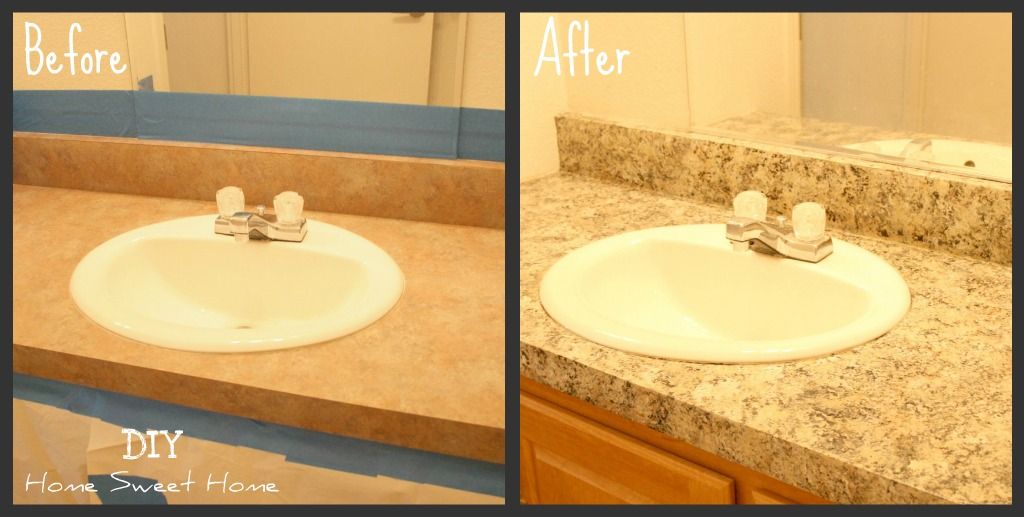 Sorry, I have absolutely no natural light in my bathroom so the photos are not the best.