This is a Sponsored post written by me on behalf of
PERK
for
SocialSpark
. All opinions are 100% mine.
I usually don't keep auto air fresheners in our vehicles. I have tried to in the past but I found them to be too much of a hassle to deal with. For one, I hate having things dangling from my rear view mirror. And two, in order to keep the fresh scent in my car I have to replace the freshener every couple days. Most of them only cost a few bucks, but over time that cost adds up and in my opinion, isn't worth it.
That is until I was introduced to PERK.
PERK is a new brand of sleek, innovative auto air fresheners that will Wake Up Your Space! PERK
Vent Wrap
is not like other
vent air freshener
I have tried. Once you attach it to your vent it blends in and is hardly visible! In fact, if I didn't install it myself, I probably wouldn't even know it was there.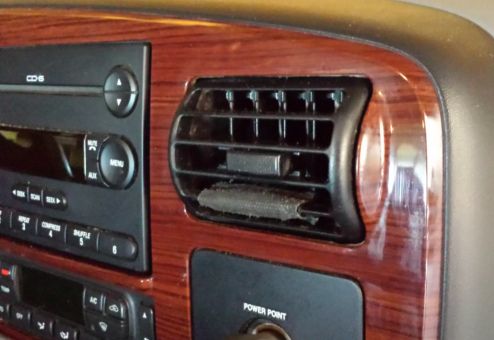 Hidden under the soft black protective cover is a revolutionary fragrance technology. No more wondering where the fragrance went after a couple days! No need to fiddle with adjustable dials. The patent-pending layered StediScent® technology will provide fragrance that is just right!
I received 3 packs of PERK; Lush Valley, Golden Vanilla, and Absolute Zero. They also two other scents to choose from; Clean Laundry and New Car. My husband is using the Absolute Zero and really likes it. Although I like the scent of the Absolute Zero, I think it is a little more manly smell to it. I decided to try out the Golden Vanilla. It really smells like vanilla!!
It has now been a week since I have started using the PERK air freshener in my car and the scent is still there. Each air freshener is individually wrapped to hold in the fragrance until you are ready to release it. PERK recommends replacing your vent wrap every two weeks, that means that each 4 pack will provide you with 60 days of fabulous fragrance.
Benefits of PERK Vent Wrap:
1. NEW vent air freshener that is discreet when placed on the vent
2. NEW StediScent® technology delivers fragrance that is just right!
3. Individually wrapped packs hold in the fragrance until you are ready to release it
4. Easy to use – nothing to pull, click or put together – just slide it onto the vent blade and go!
5. Unique design.
Doesn't block air flow
Allows vent to function as intended (vent can be adjusted with product on it unlike other vent air fresheners)
6. No liquid to leak or spill
7. 4 pack = 60 days of fragrance (around 2 full weeks of fragrance per Vent Wrap)
8. Great fragrances (revitalizing Lush Valley, cool Absolute Zero, delicious Golden Vanilla, fresh Clean Laundry, and smooth New Car)
9. Where to purchase – Advance Auto Parts, Walmart, Target, and other retailers that sell automotive air fresheners
Would you like to try out PERK Vent Wraps? PERK will be giving one lucky reader 6 months worth of FREE vent wraps!!!
CONTEST DETAILS:
U.S. Residents Only
Must be 18+
Post in the blog comments why your car needs a PERK Vent Wrap.
Additional entry if you share the blog post on Facebook
Additional entry if you share the blog post on Twitter
Additional entry if you share the blog post on Pinterest
Must comment with links to those for proof
CLICK the Rafflecopter link below to enter
a Rafflecopter giveaway
For more information and updates
Like PERK on Facebook
.
What scent would you choose for your car?