This is a Sponsored post written by me on behalf of
Better Sleep Council
for
SocialSpark
. All opinions are 100% mine.
May is Better Sleep Month with the Better Sleep Council's Get on Top campaign.
The Better Sleep Council does not sell or endorse any specific products or brands
. The Better Sleep Council's (BSC) mission is to educate the public on the important connection between sleep and good health – as well as the significant role the sleep system and environment play in getting a good night's rest. In fulfilling that mission, the BSC engages consumers by creating and promoting innovative messaging through traditional and social media platforms.
Did you know that many American's don't get enough quality sleep? Being a mother of two young kids, it is important for me to get the sleep I need in order keep up with my family.
Four years ago my husband and I made the decision that we needed to take our sleep more seriously. Instead of going to the store and purchasing the cheapest mattress we could find that wasn't as hard as a rock, we actually sat down and researched which mattress would be best for us. I'm not going to tell you which mattress we purchased because everyone is going to be different and I highly encourage you to do your own research. However, I can say that it was the best decision we ever made. The past four years we have had some of the best sleep.
Due to researching and purchasing a mattress that was right for us I have noticed a few differences:
I awake feeling well rested and ready to start the day.
I am not as grouchy and have a lot more patience with my kids.
When I'm in a better mood, my kids are in a better mood and everyone is happy.
Do you need to "stop faking it"?
Are you taking medication to help you sleep at night? Do you drink a cup of coffee in the morning in order to function? Do you settle for an old, unsupportive mattress and blame other things for not sleeping well at night? If this is you, it may be time for you to stop faking it. Research has linked a new mattress to better sleep quality and a reduction in back pain, stiffness, and shoulder pain due to sleeping when compared to mattresses five years or older.
http://www.bettersleep.org/bet…
So how do you know when it's time to buy a new mattress?
A mattress that has been used for five to seven years may no longer provide the comfort and support your body needs. A scientific study conducted at Oklahoma State University echoes this in its findings that participants with mattresses 5 years old – or older – reported significant improvements in sleep quality and comfort when sleeping on a new mattress. Other signs that it's time for a new mattress can be found in the Better Sleep Guide.

http://bettersleep.org/pdfs/Be…
Are you ready to "get on top"?
You've finally decided to stop faking it and realize that investing in a new quality mattress is the right thing to do - so, now what? Everything a consumer needs to know about mattresses, including mattress buying guides, comparison shopping, caring for a mattress and mattress disposal can be found in the Mattresses & More section.
http://www.bettersleep.org/mat…
What do you do to maintain or care for your mattress?
Here are a few tips from the Better Sleep Council to get the most out of your mattress.
Use a protective pad. A good quality, washable mattress pad (and one for the foundation, too, if you like) is a must to keep your set fresh and free from stains.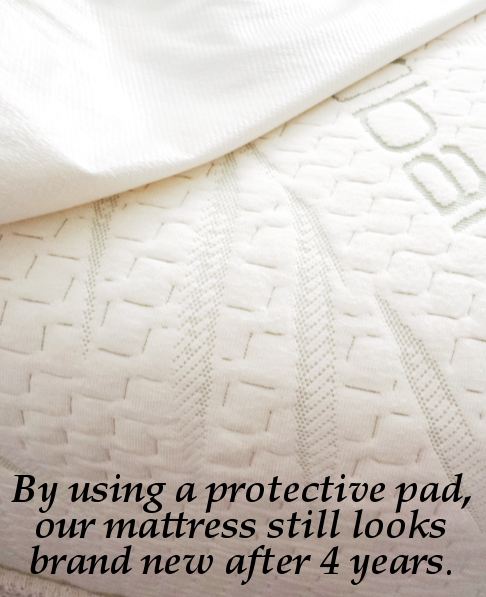 Give it good support. Be sure to use a sturdy, high-quality bed frame. If it's a queen or king size set, make sure your frame has the strong center support that will prevent the mattress from bowing or breakage.

Don't dry clean. The chemicals in dry cleaning agents/spot removers may be harmful to the fabric or underlying materials. Vacuuming is the only recommended cleaning method. But if you're determined to tackle a stain, use mild soap with cold water and apply lightly. Do not ever soak a mattress or foundation.

It's not a trampoline. Don't let the kids jump on your sleep set. Their rough-housing could do damage to the interior construction of your bed, as well as to themselves!

Follow manufacturer's instructions. Again, be sure to follow any specific guidelines from your manufacturer for the best method of mattress

Click here to find more tips on maintaining and caring for your mattress.
Using natural sleeping aids when possible.
I'm a huge fan of natural sleep aids. They don't have side effects, they are cheaper, and in my opinion they work a lot better. Every one is different and you will have to find what works best for you but here are a few sleep aids that I use are...
Chamomile Tea. Chamomile has a natural calming effect and I find that I always have a better nights sleep if I sip a cup before bed.
Warm Bath. Baths are relaxing and a great way to relieve stress. You can even add a few essential oils to your bath if you wish.
Noise Machine. Noise machines are a great way to relax your mind. They also cancel out outside traffic noise.
Routine. Getting into a routine before bed allows your body and mind to prepare for sleep. My routine consists of drinking my chamomile tea, reading, then turn on some noise, and lights out.
What do you do in order to get a good nights sleep? How does lack of sleep affect you? Have you made any changes in the bedroom or purchased any products to help you sleep? For more tips on getting a better nights sleep read The Better Sleep Council's
a guide for how to get better sleep
.
This Memorial Day is the perfect time to shop for a new mattress.
Where will you shop for a mattress? How will you decide where to shop? If you would like more information
on buying a mattress you can find it here:
how to buy a mattress
.
The Better Sleep Council's Get on Top Campaign is holding a GIVEAWAY!!!
You could win

a $50 (USD) VISA gift card.
How to enter:
Read the official rules

Comment on the blog with your sleeping troubles - How would a new mattress help?

Contest dates: 5/1 - 5/30

U.S Only; 18+
I would love to hear your personal sleep stories. Feel free to share any tips on how you manage to get a good nights sleep.
Related posts you may enjoy:
Connect with me & stay up to date with new posts on DIYHSH