Did you know that you could get the look of granite counter tops without paying high prices?
This project is definitely a must for anyone that needs to redo a kitchen or bathroom on a budget.
Our home actually came with fairly nice counter tops. Although they are laminate, they have sort-of a granite look to them. However, they just look so FAKE!!
When I received an e-mail from
Giani
asking me if I would like to review their
Granite paint kit
, I jumped on the offer. I looked at their website and thought 'This stuff is amazing!' When the box arrived in the mail, I couldn't wait to rip it open. I read through all of the instructions, watched the
VERY HELPFUL

video
that came with it. Then I stuffed everything back inside the box, tucked it into the corner of the kitchen... and that's were it sat for almost two months.
Why?!! Because I realized that I was going to be painting over our counter top!! That's actually quit SCARY!!
Luckily Giani was kind enough to give me a couple months to finish the review. Eventually I worked up the nerve. I decided to start with our kids/guest bathroom since it needs the most updating. I was still quite nervous when I started and did have a few freak-out moments during the whole process, but I finally finished it and I couldn't be happier with the results.
Here are the before and after shots.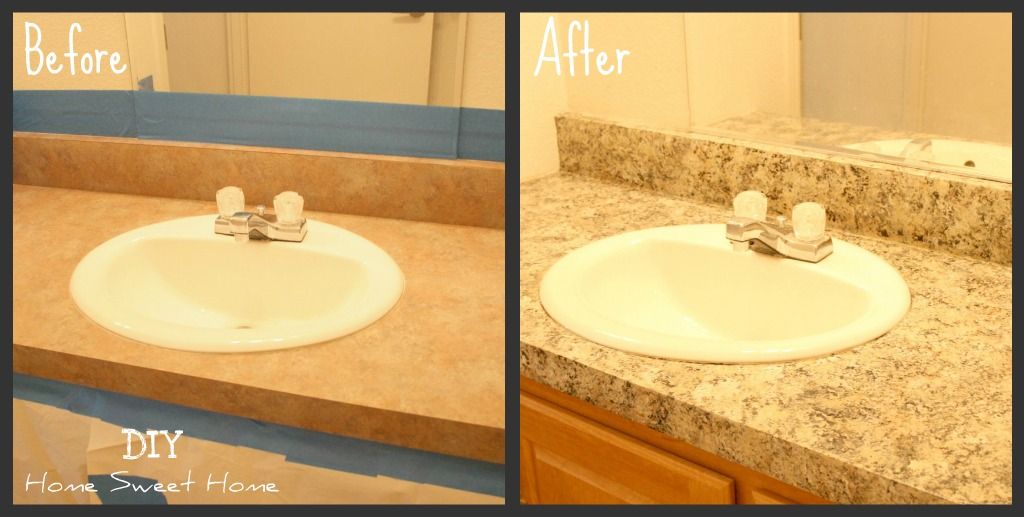 Sorry, I have absolutely no natural light in my bathroom so the photos are not the best.
The kit actually came with just about everything you need to complete your counter tops.
Items not included in the kit that you may need are:
Very fine artist brush
Half inch thick stiff artist paint brush
Sand paper
Paper plates or other container (to pour your paint into)
Paint roller tray
Wood patch (if you have holes or scratches that need to be filled)
Rubber gloves
Clear caulk
I would also recommend a folding table or something similar so you can set all your supplies on while you are working since you won't be able to use the counter top.
The first coat is the black primer. So far, so good!
After waiting 8 hours for the primer to dry it was time to add some color.
Here is where my freak-out moment came into play. I didn't take any photos cause my hands were covered in paint, (I didn't use gloves like they recommended. Not a good idea!Oh yeah, and I was also too busy FREAKING OUT!!!) I'll give you a quick run down of what happened.

The kit comes with three colors. A dark color, medium color, and a light color. They recommend starting with the dark, sponging it on in a random pattern, then sponge on the medium paint over that, and finally the lighter paint. I wanted my counter top to be fairly light (the reason why I chose the sicilian sand kit) so when I was applying the colors I tried to cover up the black primer as much as possible. After the last color was add, it still didn't look right. I didn't really know why it didn't look right but I did know that I didn't like it. I kept adding more color hoping it would eventually start to come together but the more paint I added, the more I hated it.
*Freaking Out Here*
(To be honest, it didn't really look that bad. I just didn't love it as much as I thought I would. I kept thinking I needed to go lighter and I ended up with an almost all white counter top)
I decided to take a quick break and watch the video again to see what they did different.
After watching it a couple times I decided to sponge in some more black primer.
I then went back over it with all 3 paint colors but this time I didn't cover up the primer as much.
I realized that by covering up most of the primer and adding way too much of the light color, it took away a lot of the dimension.
Once I was happy with the color, I added in some veins. After letting the paint dry overnight I painted on the two top coats.
The counters still look fairly light, even with the black primer showing through.
(Don't get me wrong. If this is too dark for your liking, you can go lighter! I really liked this look so I decided to stop here. That's the great thing about this product. You can go as light or as dark as you want)
I'm so glad that I watched the video again and went back over the counter with more paint.
I LOVE the results!!!
Here is a close-up before and after shot.
I love how the paint covered up the seams in the laminate taking away that 'fake' look. And look at how much more detail it has!!
A few tips for anyone who wants to paint your own counters:
Don't completely cover up your primer on the first try! If you have too much showing at the end, you can keep adding more color on top until you are happy. This would be a lot easier than going back over it with the primer like I did.
When painting on your veins, keep a dry piece of the sponge handy. Some of my veins ended up to dark but a quick dab with the sponge and they were perfect. I tried getting a good photo of the veins put the poor lighting prevented that. They really do look amazing though.
Keep a damp rag handy to clean up any paint that drips on the floor.
Don't think to much about it. Yes, it is scary but it will turn out beautiful. If you mess up you can always go back over it with more paint. These photo's don't do my counter tops justice.
This product truly is amazing. I would highly recommend it for anyone who wants the look of granite but does not want to pay the high price. (Just in case you are wondering... yes, we will be doing the counter tops in our master bathroom and kitchen as well. I love it that much!!)
Check out Giani's
Photo Gallery
and
facebook page
for more amazing before and after photos.
Related posts you may enjoy:
Connect with me & stay up to date with new posts on DIYHSH